<! -- ----------- Main Button ------------------- -->

<! -- ----------- School/Work Button ------------------- --> <! -- does not link because they are already on the page -->

<! -- ----------- Photo Album Button ------------------- -->

<! -- ----------- Favorite Links Button ------------------- -->
My Life Story...Sort Of...
I graduated from Treadwell High School in Memphis, Tennessee a long time ago. Treadwell's most famous graduate is probably Anfernee "Penny" Hardaway (the NBA Phoenix Suns basketball star who does the "Little Penny" commercials). He was at Treadwell a long time after I was, so that didn't help me get tickets when he played for the Orlando Magic. Other famous Treadwell grads that I know of were the members of the rock group The Gentrys, who had the hit record "Keep on Dancing" back in the '60s. I've recently become interested in learning more about Treadwell, so I've started this collection of Treadwell High Scool links.
| | |
| --- | --- |
| | I got a bachelor's degree from the University of Mississippi (the Ole Miss Rebels in Oxford, MS) in 1972. Their favorite cheer is "Hotty Toddy, gosh Amighty, who in the hell are we? Hey! Flim flam, bim bam, Ole Miss, by damn!". |
I spent several years as a part-time student at Mississippi University for Women in Columbus, Mississippi, where I took a bunch of computer programming classes while my son attended their wonderful campus preschool.
| | |
| --- | --- |
| | I also attended Mississippi State University, (the Bulldogs in Starkville, MS), for a semester, and later worked there as a computer analyst. Bulldog fans have a short but venomous favorite cheer - "go to hell, Ole Miss". This appears to be 5 words, but it's all one word to them. In fact, they are totally incapable of uttering the words "Ole Miss" without prefacing it with "go to hell". State fans use this cheer at all sports events, even when the opposing team is Tennessee or Alabama. Needless to say, my co-workers gave me a hard time about being a GoToHellOleMiss grad. |
| | |
| --- | --- |
| | Then there is Santa Fe Community College. I've been taking classes there on and off for many years, but I still haven't decided what I want to be when I grow up. |
| | |
| --- | --- |
| | I've been working at UF since 1983, and I'm definitely a Gator now. Like most Gator fans, I never get enough of Gator sports news, so one of my favorite sites is the Gator Zone. |
I work in a livestock pavilion, which is a really unusual place for an Information Technologies department, but it's fun because I never know what kind of animals will be under our roof when I get to work each day. The Budweiser Clydesdales have spend the night in our pavilion on a couple of occasions.
I maintain a Web page for my running club, the world-famous The Florida Track Club, and I've been a member of the Dead Runners Society since 1991. I also maintain an email discussion list and web page for the Central Florida Dead Runners, a regional sub-group of the Dead Runners Society. And last but not least, I participate on the Disney Dead Email List, a DRS sub-group that meets and parties at the Disney Marathon each year.
Well, that's about it!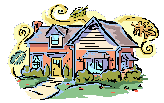 Click on the house to return to my home page